Boels Rental ready for the future
THANKS TO BRAND NEW ENGINES FROM BRIGGS & STRATTON
Boels is always looking for ways to improve and expand. This not only applies to customer services and the number of branches, but also especially to the rental fleet and one of the most important machine components: the engine. Boels recently started doing business with a new engine supplier, Briggs & Stratton, which has developed an innovative power source that is more efficient and 'greener'. The engines are even better matched to the needs of Boels customers and they also have a positive environmental impact.
"The collaboration between Boels and Briggs & Stratton is perfectly logical," says Guy Cremer, Director of Fleet Operations at Boels. "We were already familiar with this leading make because of the Vanguard 2-cylinder, a highly reliable, efficient and powerful engine. When Paul Bramhall (Senior Manager Marketing of Briggs & Stratton) approached us, we certainly wanted to listen to what he enthusiastically told us."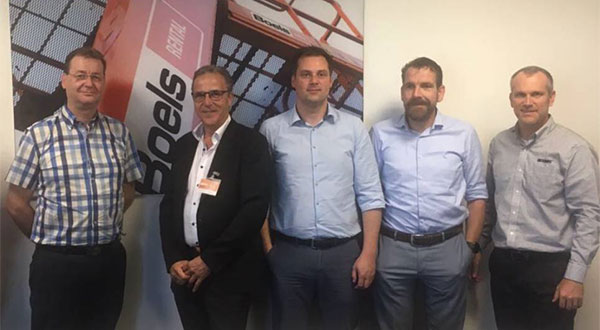 'Monkey-proof' and future-proof
For a long time, engines from another supplier were mounted on vibrating plates, lawnmowers, scarifiers, floorboard saws and many other Boels machines. Briggs & Stratton has started making a new series of small engines which have been improved and modernised in countless ways. According to Guy, "The Total Cost of Ownership (TCO) is significantly lower with the new engines. For starters, the number of service intervals has been almost halved. The oil has to be changed much less frequently than before. The engines are also more economical and cleaner, and that means lower fuel consumption and CO2 emissions. Furthermore, the engines are 'monkeyproof' – because of the way they are built, fewer breakdowns occur and the improved and simplified start/stop control has made them as easy to operate as possible.
MARKET LEADER STEERING SUPPLIERS IN THE RIGHT DIRECTION
According to Guy, the timing of the proposition could hardly have been better. "We were in the process of choosing what we needed to buy. Because the new engines from Briggs & Stratton had a head start in so many areas, deciding to switch did not take long at all. We do business with dozens of machine suppliers and we purchase thousands of their products every year. The suppliers decide which engine to fit in their machines on their own, but as a market leader, we are of course allowed to state our preferences. We were so convinced about the advantages of Briggs & Stratton engines that we decided to exert as much influence as we possibly could. The engines were immediately adapted to make them suitable for a large number of relevant machines. For example, the connections and mounting points had to be matched to the machines we already have in service so the new engines could be fitted without any problems. The supply of parts has also become more efficient. The reason for this is that Briggs & Stratton works with the specialized parts platform SmartEquip, which is faster, easier and therefore more cost efficient for Boels."
Shared customer philosophy
For Paul, other considerations also play a role. "We not only want to be transactional order takers," he says, "but also provide real added value and develop a true long-term collaboration. Boels, which is now active in 19 countries, wants to pass on the benefits to its customers and we share that same 'the customer comes first' corporate philosophy. We are an immensely strong global operator, which is also an advantage for Boels, for example, because we can train employees in their native language." All the lights are clearly green for a long-term relationship, which will benefit Boels, Briggs & Stratton and our customers.
---
AT THE EXECUTIVE HIRE SHOW 2019
Vanguard will be exhibiting at the Executive Hire Show which takes place at the Ricoh Arena in Coventry England from the 6-7th February 2019. On display will be the new Vanguard 200 single-cylinder engine, the first of a full line-up of all-new single-cylinder horizontal shaft commercial engines designed from the ground up. The new engine line was developed around key areas of performance critical to improving overall productivity — including starting, noise, vibration, extreme operation, maintenance intervals, service and support, and total cost of ownership.
On display will also be the range of Vanguard electronic fuel injected (EFI) V-Twin engines, which allow customers to take advantage of many of the benefits to improve equipment productivity and performance including in-field engine diagnostics, choke-less starting, better fuel economy, better load response, improved fuel tolerance and altitude compensation. All Vanguard engines on display are EU Stage 5, EPA and CARB compliant and have a 3-year commercial warranty.
To find out more about these new product innovations visit us at booth B22.
You can register on the Executive Hire Show website.
"We're excited to demonstrate the performance advantages of our Vanguard innovation at the show. Its not often a company has so many new and exciting products to showcase at one time. As we are gaining traction in to the European rental market our new products are really what set us apart from the established competition," states Mark Kerr, sales manager OEM engines UK.
---
WITH VANGUARD 200 TARGETED AT THE RENTAL MARKET
Italian based OEM Benassi has recently powered their L300 and L390 turf cutter and the BL6000 cultivators with the new Vanguard 200 engine. Based on demand from the European rental channel the new products are now available from Benassi Srl. While the initial units are targeted at the rental market these products can also be ordered from the OEM or their dealer network in 2019.
"The new Vanguard 200 engine has many performance advantages over existing engines in the market. Together with demand from the rental channel we have added this new engine to our tillers and turf cutters." claims Roberto Tassinari, president of Benassi Srl.
Innovation drives productivity gains
"The innovation which we have built in to the new Vanguard 200 engine has ultimately driven the demand from rental. The ground-up engine design is EU stage 5 emissions compliant, offers 50% less oil wastage through longer oil maintenance intervals which are double the industry standard and features an integrated fully cyclonic air filter leading to reduced TCO" advises Araldo Da Pozzo, Sales Manager OEM Engines South Europe.
Find more information on the Benassi L390 and Benassi BL6000.
---
Vanguard is proud to be a sponsor of the Boels Dolmans international women's professional cycling team for the 2019 season. The sponsorship of the team reinforces Vanguard's commitment to supporting world-class achievements, and ultimately raising the bar in power, performance and productivity.
The Dutch based team which has won the last four UCI world championships is set for another great year with a powerful line-up of riders including reigning world and Olympic road-race champion Anna van der Breggen, reigning Dutch national champion Chantal Blaak, Danish national champion Amalie Dideriksen, and Luxembourg national champion Christine Majerus.
Taking part at the official team launch in The Netherlands, senior manager marketing for Briggs & Stratton Paul Bramhall stated: "Sponsoring the Boels Dolmans Cycling Team is important to us as it supports our strategic collaboration with Boels Rental. The team shares the same ethos and ambitions as Vanguard - to set new standards, continually striving to be the best, and deliver winning results."
Armand Rooyakkers, Marketing Communications at Boels Dolmans Cycling Team claimed: "Having a global commercial brand like Vanguard on board, will help the team gain greater exposure in markets outside of our core European market. As Vanguard is a US brand - and we have some American and Canadian riders in the team - it can help us gain greater brand exposure in North America as well."
Find out more about the amazing story of the Boels Dolmans Cycling Team powered by Vanguard.